Introducing Toshiba's new, advanced Single Fan MiNi VRF. Its small size and light weight makes it ideal for apartment developments, allowing for style and plenty of balcony room.
Connects up to 6 indoor units for design flexibility including 450mm deep super slim ducted
4 models including 8kW, 11.2kW 14kW and 15.5kW
Maximum height of 910 per unit
Super Slim Ducted 450mm deep and 12 sizes ranging from 2.2kW to 8.0kW
Toshiba's efficient and reliable twin rotary inverter compressor
Lighter and more compact for easier installation and transportation
Demand Response Enabled (DRM1)
Diversity 80% to 135%
7 year peace of mind warranty
KEY FEATURES
Operating Temperature Range
The compressor design and system controls make the Single Fan MiNi VRF to expand its temperature operating range. This enables wider applications of the system in hotter and colder regions.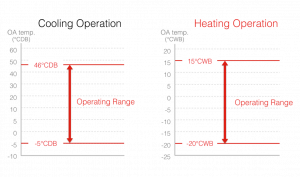 Energy Saving
Adopting the efficient DC twin-rotary compressors and variable refrigerant pressure controlled inverter realised greater energy efficient performance.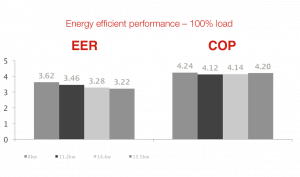 Z Shaped Heat Exchanger
With installation design ease and user comfort in mind, the Super Slim Ducted comes with its own built-in DC driven drain pump and optional left/right drain discharge ports. The 'Z-shaped' heat exchanger arrangement and DC dynamo operated centrifugal fan cleverly combine to produce a space saving low profile unit.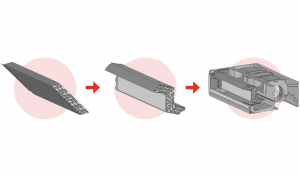 Twin Rotary Compressor
The Toshiba DC Twin Rotary Compressor is compact and reliable with a wide operating range. It utilises two rollers rotating together making accurate compressor rotation possible, and the low oil release method combines to deliver higher performance efficiencies, and peaceful operation.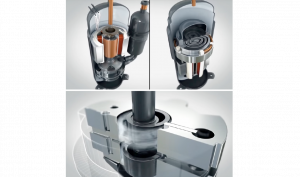 Installation Flexibility
Air intake and discharge is interchangeable to either rear or bottom configuration, all combining to produce quieter operation for enhanced user comfort and installation simplicity.
The electrical box is also conveniently positioned outside the unit providing straightforward access to power and communications terminals.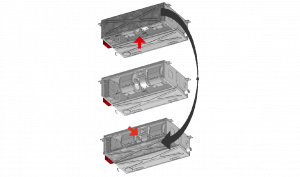 Propeller Fan
Toshiba's bat wing fan design increases the delivery of air volume while the anti-eddy ribs and rubber sealing rings work in harmony to reduce air resistance thus achieving quieter operation.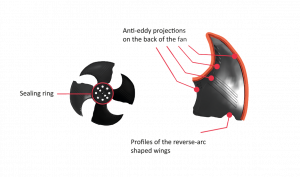 Toshiba Mini Single Fan VRF MCY-MHP0305HT 8.0kW Outdoor Unit Only
Toshiba Mini Single Fan VRF MCY-MHP0405HT 11.2kW Outdoor Unit Only
Toshiba Mini Single Fan VRF MCY-MHP0505HT 14.0kW Outdoor Unit Only
Toshiba Mini Single Fan VRF MCY-MHP0605HT 15.5kW Outdoor Unit Only