iZone Smart Air Conditioning System
It starts with degree-perfect climate control and comfort in every room. With unparalleled energy efficiency and savings. And then it gets even better. Add as much – or as little – iZone Smart Home functionality as you like, whenever you want.
Control your home's air conditioning, lighting, irrigation, garage door, roller blinds, and appliances with iZone precision, even when you're out. Integrate all your favourite lifestyle and entertainment apps – Google Home, Amazon Alexa, Apple Home Kit (Siri), IFTTT, Sonos, Samsung SmartThings, and Spotify – for a seamless, voice-controlled smart home experience your whole family can enjoy.
Turns any ducted air conditioner into a smart home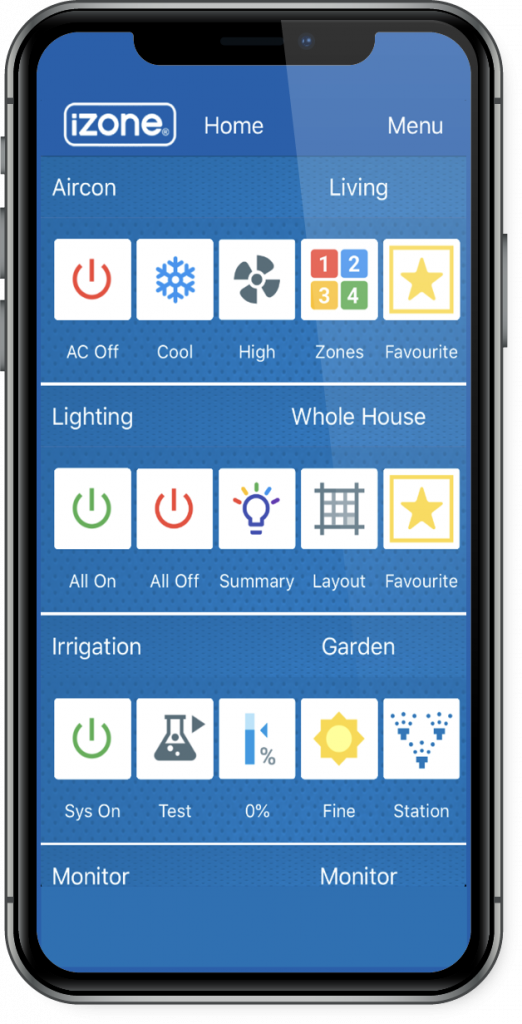 The iZone climate control system is highly affordable, efficient, and effective. It's far superior to most other systems and as Smart Alec says, "it's about out
smarting not outspending." iZone technology makes life better for you. How cool is that? It wirelessly adjusts temperature, air distribution, and airflow to any room in your house from anywhere, anytime.
iZone gives you total temperature control of each room individually. With up to 14 zones, every room can be at the temperature you want, all the time. iZone climate control systems are fully scalable, which means you can afford it on almost any budget.
You can control your air conditioning system via your smart phone or tablet. iZone gives you greater control from anywhere anytime for even greater efficiency and savings. Now the whole family can come home to the perfect temperature.
iPure. A cleaner, healthier home
Optional iPure natural air filters deliver cleaner air for a healthier home, capturing dust, mould, pet dander, pollen and virus carriers.*
iZone's patented clip-in spigot and damper system prevents air leakage in the same way as the seal on your fridge door. Every spigot or clip-in damper fitted to iZone's air network terminals are sealed with foam gaskets to ensure a 100% air-tight seal.
Real-time Fault Detection
iZone is so reliable, that there's no need for costly control system maintenance. And, in the unlikely event, the system encounters an issue, the fault will automatically be detected and recorded, with an in-screen fault notification ensuring we can pinpoint and fix the problem ASAP. iZone is the only system with damper fault detection to alert you to a zone fault, so you'll never get caught out on that 40-degree day.
iZone works with new and existing systems.
iZone works perfectly with all the major reverse-cycle brands. In fact, many of the industry's leading manufacturers ask us to develop control systems for their next-generation air-conditioning units.